When we hear the word "Character" the first thing that strikes our mind is the complete persona of an individual. Today due to increasing rate of frauds and cheating cases, it is becoming very crucial for everyone to screen and verify the character of the individuals before getting engaged with them in any means. Different aspects are there that may influence the character of an individual. Undeniably, a person always tends to display positive character in front of public to cope with the running world as well as to create a good image in the eyes of the society. But, the fact may be different so it is very important to conduct character screening of a person before you get involved with him or her. We at Indian Detective Agency offer character screening services that help our clients to verify the real face of the suspect.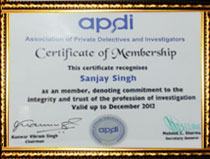 Today companies are also hiring our character screening services to screen the character of their employees and it is proved to be an effective method to verify the character of employees. Character screen of employees can also be conducted during the hiring process so as to know the real character of the applicant before you hire them in your organization. Ignoring the significance of character screening services during recruitment process may adversely affect the reputation and performance of the company because a wrong candidate can hinder the progress of the company with their improper and poor performance. With character screening services you will come to know about their personal performance and character of the applicant. Our investigators will clarify the facts of the applicant like whether or not they are eager to perform for the betterment of the company, how they lead their life, how is their behavior towards other employees in the organization and several other factors about their character.

Our investigators conduct character screening in several innovative ways. They can easily monitor the character of any person through group discussion, personal discussion and by working together with the employees covertly to gather information about their character. Our investigators also judge the character of a person by checking their competence of handling any critical situations and by checking their reactions in certain circumstances. Our investigators work in coordination with our clients to conduct different types of activities where they check the character of an individual. So, simply hire our character screening services and sit back and leave all your worries on the shoulder of our highly efficient experts.