Committed to our work!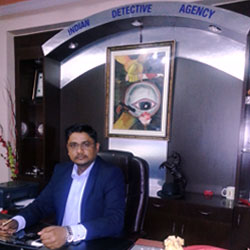 We are a leading detective agency of India situated in India's capital, Delhi. Due to high customer's satisfaction we are stay ahead always with more than 80% referral rate. We have been offering quality investigation services across the country since our existence and we are powered by experience of more than a decade. We offer investigation service both nationally and internationally through our strong network of investigators.
We are equipped with highly skilled and trained professional detectives and investigators based in India
The man behind the successful venture of Indian Detective Agency is Sanjay Singh. Besides being the head of IDA, he is also a member of well-known association that consists of investigators and detectives from across the globe. He is striving in systematizing the investigation agency since its existence. IDA has a panel of dedicated investigators who are committed towards the confidentiality of our clients and perform the assigned tasks seriously and with complete sincerity.

All the detectives we have need to undergo the complicated on job training before they become a perfect professional to handle cases accurately. Throughout the investigation process we utilize advance equipments and sophisticated gadgets that help our detectives and investigators to carry out the assigned work accurately and efficiently.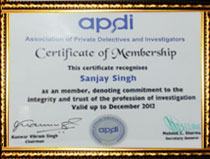 Thorough investigation is what we believe in
During the investigation process, our investigators unveil all the details and ensure that no phase is left untouched. Our team of detectives scrutinizes the reports and evidences thoroughly before furnishing it to you. The primary motive of out investigators is customer satisfaction die to which we always stay ahead with 80% referral rate. We perfectly understand the fact that our reputation in the market will be affected adversely if one mistake is done, most importantly your trust on us will be diminished. We believe in bringing strong proofs in the investigations. We collect video and audio evidences along with photo shots in our investigations for our customer satisfaction.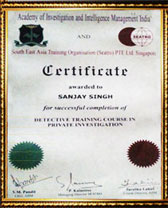 Our expert investigators and detectives have experience in delivering Activity Observation background inquires, investigation of the sensitive cases and records verification.
Client's secrecy is utmost important for us. We abide the ethics of our organization by keeping the information and details confidential without leaking it to third party.