Though Delhi is the capital city of India, but the local residents of Delhi need to deal with uncertainties and doubts. Sometime these doubts seem to be very dangerous that affect psychological status of the person adversely. So, before you become the next victim of these qualms it is better to get rid of them. So, if you are having doubts and uncertainties in your life and residing in Delhi, then Indian Detective Agency will help you deal with the area of doubts in more professional and effective way.
We are headquartered in Delhi, but we have wide and strong network in adjoining areas due to which our investigation process become more resourceful and powerful than ever before. We are popular because of our services. We offer wide range of services in this field including both corporate and domestic investigations.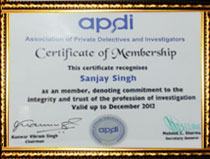 We offer:
Corporate investigation
Pre/ post matrimonial check
Specialized services like calligraphy check and finger print verification
Attorney services
Personal investigation
Financial investigation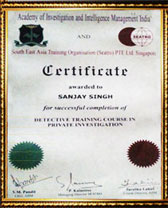 We are well equipped with expert and professionals agents that are scattered across the country including Delhi and NCR so as to make sure that all aspects of investigation are covered effectively.

We are popular for offering quality services and guarantee complete satisfaction to our clients. We have huge number of satisfied clients and they rely on us in terms of investigation services. Because of our quality services they always approach us when it comes to investigation services. We follow a thorough way to conclude the assign work. We believe in thorough investigation before crafting a report in organized way, thus helping our clients to make informative and correct decision ahead.
We have modern equipments and latest gadgets to conduct fruitful investigations. We also have special undercover vans through which we conduct delicate investigation. All these things help us to make successful investigations while the confidentiality of our clients is always maintained.

So, if you are residing in Capital city, Delhi and desire to conduct an investigation in this region or in NCR, then do contact us as we are eager to provide you assistance.