It is really very annoying and irritating to know that your spouse is engaged in an extramarital affair. You can easily make out whether or not your spouse is involved in an affair. There are number of signs that indicate whether your spouse is having an affair or not. This includes increase of late nights at office, unexplained expenses and increase in nights out with guys and also loss of sexual drive. Although there are many spouses who often overlook these crucial signs for a period of time just because of the faith they have on their spouse and also because of the fear to get their married life ruined. At times it becomes very difficult for the loyal partner to speak with their spouse and they become totally confused what step to take to bring back their spouse and have a happy married life ahead. So, to address such critical situation and to handle the problem professionally, Indian Detective Agency has introduced Extramarital Affairs Investigation though which they check the fidelity of the spouse and collect evidences of the affair.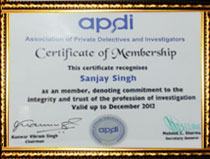 Though Indian Detective Agency is headquartered in Delhi, but they offer services to all their clients across the nation. So, when you feel that your spouse is having an extramarital affair, then hire our investigation services to verify the facts and also to collect evidences professionally without letting the suspect know about it. Our investigation services will surely offer you complete peace of mind and also help you to clear all your doubts about your spouse. We understand the fact that this type of investigation should be carried out professionally and vigilantly because if you falsely accuse your partner, then it irreparable breakdown may occur which may ruin your married life. So, our expert and trained investigators carry out undercover investigations so that the suspect will not come to know about the investigation.

We put all our efforts to disclose the truth behind the fact and offer you a clear picture about the scenario, thus helping you to take correct and informative decision ahead. We have strong network of agents across the nation. So, once the case is entrusted to us we guarantee you to offer clear picture of the case at much affordable rates. We will also provide you the written report about the case, a detailed invoice mentioning all the expenses during the investigation, a copy of other evidences and documents obtained.