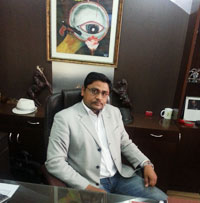 Indian Detective Agency Pvt. Ltd is the prominent professionally managed, account-able and reliable detective agency offering wide variety of services to accommodate the growing needs of its patrons including, private bodyguard services. With an aim to address all the security related needs of its clients, IDAPL has always endeavored to offer private bodyguard services that ideally suit the clients and protect their lives. Today, IDAPL has emerged as one of the leading, fully insured and licensed private bodyguard companies in India that specializes in offering dependable, professional and highly trained officers to offer security services with utmost care. Under the dynamic and sensible guidance of Mr. Sanjay Singh, owner of the group, IDAPL has grown from strength to strength and continue to offer superior and honest private bodyguard services in India and aboard tailored to surpass the expectations of its clients.

Indian Detective Agency Pvt. Ltd has confirmed its status amongst the top service providers with its passion to involve in all the aspect of management, recognizing the fact that customerís satisfaction greatly depends on the performance of the officers assigned for services. The rich experience in the investigation industry and in-depth knowledge about the domain has really helped IDAPL to become one of the finest and reliable private bodyguard companies in India. We at IDAPL guarantee to deliver leading private bodyguard services to address all types of security related needs with the assistance of our highly trained and qualified officers.

Today, IDAPL is reckoned as the reputed service provider and know for its high degree of dedication and commitment towards professionalism and excellence. We combine our knowledge, energy, dedication and innovation to deliver finest private bodyguard services across the nation. We are not only restricted in providing private bodyguard services to families and executives, instead we also specialize in providing security related services to celebrities, VVIPs, politicians and organization. The private bodyguard services offered by IDAPL are totally based on the skill sets and aptitudes of experienced international and local operators that allow us to offer finest services of global standards.

IDAPL endeavors to build competency in the field of personal bodyguard services and deliver smart, honest and advanced resources tailored to save the valuable time, lives and focus of our esteemed clients. Today, Indian Detective Agency Pvt. Ltd takes the pride to introduce itself as a company equipped to render deployment private bodyguard services to its esteemed clients who are desirous to avail these kinds of services as per their needs.