IDA is a private detective agency headquartered in Delhi and having decades of experience in this field. Though they are based in Delhi, but offering quality investigation services across the nation. IDA has a trustworthy and reliable network of investigators and detectives that are scattered across the country. IDA Agra is popular as a professional society and quality conscious firm and they are versatile in offering specialized services for both non-business (individual) and corporations.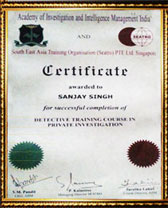 The services we offer are private and confidential detectives and investigative services like:

. Individual researcher detectives
. Human Activity Observation
. Security services
. Private investigations of theft, fraud
. Investigation services of banks and insurance companies
. Control checks
. Screening of employment
. Pre and post marriage investigations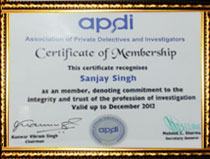 In the first session of the investigation our experts analyze the specific demands and requirements of the clients and offer investigative services accordingly. After analyzing the demands and requirements of the customers they initiate the investigations and wind up within the given time frame with effective reports based on strong grounds. They plan for detailed investigation and Activity Observation which is based on accuracy, honesty and confidentiality of the case.

IDA Agra is supported by a dynamic team of young researchers and experienced professionals. We believe working in coordination with our clients that help us to offer reliable detective investigations in Agra and other cities. Complete customer satisfaction is the prime concern of our organization and to achieve this IDA Agra interact with the clients to know their interest and aspects of investigation. In the first meeting our expert detectives analyze the requirements and demands of the clients and then they start the hunt efficiently and generate reports on the basis of strong grounds and true facts. Confidentiality, honesty and accuracy are the USP of IDA Agra and all these help us solve cases successfully.