Alike all other cities of India, the city of Allahabad also has a modest outlook. Though this city is popular for its active contribution towards country's history, but it breathes easy most of the times. However, the issues and uncertainties prevailing in the city cannot be overlooked as it requires special attention. You will come across with several societal issues prevailing in the city that demands for attention, thus to address such issues IDA Allahabad has been established to deliver investigation and detective services in Allahabad. IDA is headquartered in Delhi, but they have a branch located in the city of Allahabad. IDA Allahabad delivers services to local residents and helps them come out from the critical situations. IDA Allahabad is equipped with highly experienced team of investigators and detectives who are academically sound.

Today due to the changing in times, people have also changed their way of living. The changing living style creates mistrust between humans and results in increasing crime rate in the city. We have dedicated workforce offering detective services in the city and helping people in their critical situations. With our talented and skilled team of investigators we offer detective services and solutions that are suitable for the society and most importantly for the individuals.

With improper guidance people often come across with problematic situations and they are left alone to suffer. So, in such circumstances we at IDA Allahabad come forward to rescue people and help them solve the cases with the Activity Observation services.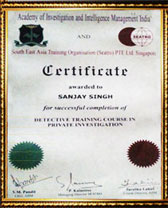 The services we offer in Allahabad include:

. Post/Pre Matrimonial Investigation
. Corporate Investigations
. Pre-Employment Checks
. Financial Investigation Services
. Personal Investigation Services
. Activity Observation
. Fidelity Checks
. Control Checks


IDA Allahabad is equipped with some of the talented and experienced detectives and investigators those who are best in the business. The quality of work offered by our detectives showcases the competence and excellence of our organization.