Ghaziabad is now considered as one of the well-established and developed cities of India because of the rapid growth of infrastructure and other facilities. This city is also considered as the Delhi NCR region; therefore the significance of the city is quite higher than other cities of India. Along with the rapid growth and development the crime rates and frauds are also increased in the recent past. So, to decrease the crime rate and frauds and to prevent the city-dwellers from becoming the next victim, we have established our detective agency in Ghaziabad as well. There are several societal issues prevailing in Ghaziabad that require special attention and it needs to be controlled as well as possible for the betterment of the residents. So, to address such issues we at IDA Ghaziabad have a dedicated tea of expert detectives and professionals who deliver quality investigative services to help the local residents from frauds and criminal activities.

Ghaziabad is now considered as the part of metropolitan city and people from nearby region move to this city in search of occupation, thus the city is becoming a destination of mismatch population. Besides, this has also arisen out several societal issues including crimes and frauds in both professional and personal spheres. So, we at IDA Ghaziabad have moved forward to prevent the city-dwellers from becoming the next victim of such frauds and crime. We are equipped with a dedicated team of detectives and investigators who help the people in solving their issues in more efficient and professional way.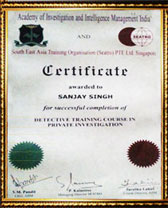 The services we deliver include:

. Corporate Investigation
. Pre-employment Investigation
. Fraud Checks
. Fidelity Checks
. Post/Pre Matrimonial Checks
. Financial Investigation
. Individual Investigation
. Specialized Investigation



All our detectives are well trained and generate reports at the end of each investigation which are based on true facts and strong grounds. Our prime concern is confidentiality of the case and we always keep the identity of our clients withheld during and after the investigation process.