We are the leading and exclusive private detective agency. Though we are headquartered in Delhi, but operating in Jharkhand and Bihar as well. We at IDA have a strong network in all the major cities of India. We are equipped with special teams of detectives and investigators who carry out the investigative tasks of our company in Jamshedpur and other neighboring cities.

We at IDA Jamshedpur offer all types of corporate and personal investigations. We specialize in other investigative services including: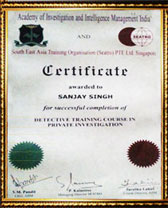 . Litigation Support
. Obtaining Evidences and Proofs
. Divorce cases support
. Employment Background Checks
. Compiling in depth Background information about an individual
. Pre/Post Matrimonial Investigations
. Electronic and Physical Activity Observation Services
. Financial Investigation
. Personal Investigation
. Specialized Investigation Services


We at IDA Jamshedpur put all our efforts to provide proper inputs, facts and evidences to our clients that help them to make informative and correct decision ahead. Thus prevent them to counter any further issues. The investigative task assigned to us is handled by our highly trained and experienced detectives and investigators that belong to different fields. To make our investigation task more efficient and faster, our detectives rely on world class equipments and modern gadgets. They keep on working 24 hours a day, 7 days a week, that enable us to deliver effective and reliable reports to our clients that are based on true facts and strong grounds.

The cases assigned to us are handled with utmost care and vigilance so as to offer complete anonymity. Confidentiality of the case is the prime concern of our detectives and they always keep the identity of our client secret throughout the case. The information gather during the investigation is never unveiled to third party and it is only delivered to the clients through a proper report that is created at the end of each case.