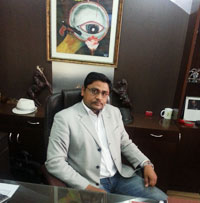 Indian Detective Agency Pvt. Ltd is the most reliable and respected private detective organization of India. With over a decade of experience in delivering valued investigation services, IDAPL has successfully carved a unique niche for itself within the industry and has been consistently building reputation by delivering quality and customized investigation services to meet the specific requirements of clients. We take the pride for serving wide variety of clients of repute from different business domains. Our quality private investigation services are widely appreciated and highly praised as these are thoroughly confidential, consistent and delivered within the given time frame, thus making us the top choice always for all types of investigation needs. With a quest to mark remarkable footprints across the nation, IDAPL has extended its operations to key locations of India including, Pathankot, Punjab.

IDAPL Pathankot is equipped with highly trained and experienced private investigators and they endeavor to serve our clients with highest customer satisfaction. IDAPL Pathankot has emerged as one of top private detective agencies of Punjab for delivering quality investigation services tailored to the needs of our clients. Our private investigators at IDAPL Pathankot understand the fact that every client has diverse needs and hence our investigators handle each assigned case with same level of skills and precision that helps them to offer valued investigation services to meet their specific requirements.

All our private investigators at IDAPL Pathankot are highly trained and skilled and they strived to offer services beyond expectations with steadfast dedication. Professionalism is the feature that our clients will observe in all the services we deliver. Moreover, all the services offered by IDAPL Pathankot are not only affordable, but guarantee our clients to achieve timely delivery and precise information. Investigation services offered by IDAPL Pathankot include,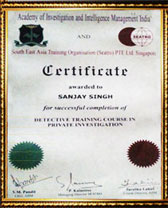 The services we deliver include:

. Personal Investigation
. Corporate Investigation
. Pre/Post Matrimonial Investigation
. Employment Background Investigation
. Fidelity Checks
. Frauds Checks
. Activity Observation
. Financial Investigation
. Specialized Investigation


Today, IDAPL Pathankot has attained a position of repute within the industry by consistently rendering highly effective investigation solutions to its esteemed clients not only in Pathankot, but also in the entire state of Punjab. The investigation services we offer are primarily endowed upon our clients and we endeavor to deliver comprehensive solutions by considering the issues and matters of the cases, this unique attribute of our group has enabled us to gain a wide global clients base.