Delhi, the capital city of India is also known as the crime city as large number of crimes happens in this city everyday. These crimes include sexual harassments, thefts, violence and various others because of which people are murdered, killed, or injured. To restrict all these things, undercover agents are helpful. They are having special training and experience in solving cases through Undercover Operations. They work on all kinds of evidences and secretly find out the suspicious person or article through which it is easier for a person to catch the suspect.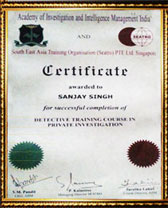 Undercover operations are taken on large number of cases and in Delhi, it is a common thing. Large numbers of people hire private detectives for this purpose. Our company, which is based in Delhi itself, is ready to provide undercover agents for all those cases in which people are seeking help. These agents are trained and have all kinds of knowledge and experience in solving large number of cases of all type. There is no time bound on solving a case as they depend on the complexity of the case. They are also for both domestic and corporate reasons. Since people who are residing in metropolitan cities may get indulge in any kind of extra marital affairs that may disturb a healthy married life, these undercover operations may help them to find out the reality and also helps in saving the existence of the relationship.

There are large numbers of killing, suicides etc, which are associated with these things, and to find out the reason and suspect person, it is important to hire these people. These agents are working at the workplace or also at the site where the incident happened so that they may easily get to know the reality of the case. They are highly trained and very professional people who do their jobs with utmost dedication.