With the help of latest technology, Indian Detective Agency offers excellent Spy Activity Observation service to its esteemed clients. You might have heard about Activity Observation and its functioning. As you, all know that these days' mobile phones are very necessary for modern folk. Almost everyone is using this high-tech facility to make his/her life comfortable. However sometime, this modern technology creates trouble for you when you receive a threatening call or abuse /vulgar call from an unknown person. In this case, you probably avoid visiting the nearest police station, as you know that they do not solve your problem immediately. That is why for avoiding unnecessary delay, you need to take Spy Activity Observation service offered by IDA. The detective agency solves the given case within a short span of time.

How it works

If you are going to hire private detectives India for solving your particular problem then you will be provided stated below advantages.

The renowned private detectives India covers all kind of required technical spy equipment such as email tracking call recording, SMS tracking, unknown address tracking etc.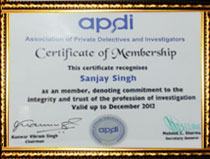 This modern world is full of various technical equipments that make life sometime very difficult. Suppose you give your mobile number to someone then it may possible he may put your number on unethical Activity Observation. Once your mobile number or email address is put on Activity Observation then all the information you share with someone would be recorded.

Hence, for avoiding previously mentioned situation, you need to take help from private detectives India. The detective agency offers you complete protection from unethical forgery.


In case you feel that someone is spying you then you need to contact private detectives India. The detective agency will covertly put Spy Activity Observation around you and save your privacy.

The private detectives India put high technology enabled equipments at your home or office so that suspicious people would be caught immediately