With all sorts of latest technologies, people are also cheating on other people and misusing this technology to cause them harm or threaten them. In such cases, frauds through mobile phone are a common thing. Criminals use to call from an unknown number and disturb the reputed or rich people by demanding high amounts. They properly investigate about their target and then threaten them to make them realise the harm that they can cause them as well as their family members. Now, as the technology is improving, it is possible for a person to trace these numbers easily and can catch that suspect easily. Calling from unknown numbers for ransom, threats etc can all be stopped with our services. We can also track a particular person's number to get to know their exact location.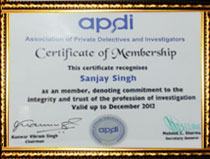 Since, these kinds of news are common in Delhi NCR, we are serving to our clients who are residing in these places so that they may get rid of these phone calls and the suspect may be caught. We are also ready to provide our services in different other cities of the country too so that people may get rid of unnecessary calls. We are running on with our specialised team of people who are providing satisfaction to our clients that are spread in different parts of the country. We are also having latest devices through which it is possible for us to detect those criminals easily. We are not providing any fixed time duration for solving a case as it depends on the complexity of cases.

We are also having new software through which it is possible for a person to get the voice clear of that person who is calling on the other side through which identification may go easier for us. We assure of providing best of our performances at all times.