We are not only expert in handling overseas investigations, but we also conduct inter-city investigations too. We have a strong group of detectives and investigators in Bangalore. The group of investigators and detectives is equipped with academically sound technical experts who are not only hard working but also put all their efforts to support and escalate our services for tasking it to new level of technicality. The huge network of our clients proves our competence and excellence in the field and this helps us to establish our team in different states and cities of India. Our team of experts is fully confident and we trust them so well that we challenge to trace any hard core criminal and provide you reports on the basis of strong grounds. We believe in thorough investigation and we analyze every problem of our clients very closely and address them by keeping the prime objective and aim of the investigation in mind.
We also provide assistance to large organizations to conduct investigation. We also offer specialized investigation services in Bangalore region. However, we now consolidate the level of IDA in several cities of India and abroad. We are looking forward for some challenging projects for the betterment of our organization and it will also help our organization grow further.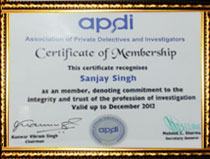 For Bangalore IDA is offering:
• Financial investigation
• Pre/ post- marital checks
• Tracking of criminals
• Tracing of missing identities
• Corporate investigations
• Litigation support
• Specialized services
• Tailing and counter tailing of individual
When you have facing any uncertainties in your life, you may approach us as we have wide set of solutions for every problem. We take your problem seriously and analyze it closely so as to offer you effective and best solution possible. We may call us or contact for further information.
We are always ready with a huge set of solutions. We closely analyze your matter and suggest the best possible solution possible. For more detailed information you can contact us or may call us anytime.