Legal battles are not so easy to win. Tampering with evidences, missing important link, bribing a witness are very common. Generation of fake evidences is not very difficult task, but determining its authenticity is complex. Thus we offer a huge set of investigation services that help you out while you get trapped in some legal clash.
With our trained and experienced team, we are always ready with our advanced gadgets that help us to gather the strong evidences.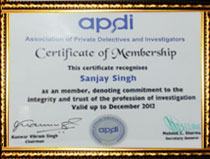 Some of the major services that we offer are:
• Offender personality analysis and assessment
• Verification of statement delivered by the witness
• Finding out hidden links and spectator
• Visual proofs of the crime site like photographs and video coverage
• Accidents and personal attack investigations


Aforementioned services are some broadly categorized services, while the detailed investigation consists more than that.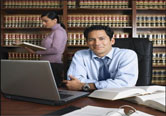 It happens often that influential parties construct fake evidences and witnesses that weaken the genuine case, we help you in bringing out the fact behind all the evidences produced. On the other hand, there arises situation when due to lack of evidences the case trembles and we can sense a wrong verdict ahead. In such cases we analyze the whole case closely and try to squeeze out the necessary information if left untouched.
With our expert team of detective agents we work non- stop till the time we do not generate the adequate evidences to make the strong base for the case.
We provide adequate litigation support and assist solicitors to build up the best stack of evidences.