Today you will come across with several insurance related frauds and it is quite common these days. The medium and small scale companies are victimized by these types of frauds. The reason due to which they are victimized is very simple, improper investigation before providing the compensation. So, if you are a small, medium or big insurance firm, then it becomes very essential for you to conduct a background check of the issue before paying the compensation to prevent frauds.
We have been assisting several firms to conduct investigations and background checks of their clients claiming for high compensation amount. Insurance investigation is mainly conducted to unveil the facts which are under suspicion for one or other reason.

Our team of experts is well aware with the legal formalities associated with the cases related to financial matters. Our investigators also work as in house agents for our clients and help them conduct investigations for their clients. We believe in conducting insurance investigations with utmost precautions and care.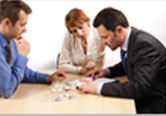 Our team of experts utilizes high-tech and modern gadgets and technology to investigate a case. They are well aware with all financial terminologies that help them to judge for what claim the applicant is eligible. It is quite common these days that the claimant who is involved in an accident will be frustrated and he will claim for more than he is eligible. So, in such situation we will help the insurance firms to determine the authenticity of the claim. By putting the agents on observation we easily verify the claims.



When it comes to property claims, where the property of the claimant is destructed and he is claiming for compensation we conduct an investigation through which we unveil the facts behind the scene for the insurance firms that helps the insurance firm to pay compensation accordingly to the claimant.

We believe in delivering reports that are based on strong facts and grounds.