Since many decades we have been helping small, medium and big corporate firms to select correct employees for their companies.
It is very complicated task to hire an employee for your organization. The process of hiring an employee for an organization not only involves skill check process but also thorough background check of the employee is also equally important.
During the interview session you can only check the area of specialization of the applicant through his/her CV and employment records and educational qualifications. But, how to check the authenticity of the information provided in the CV and who will guarantee about his/her behavior in the firm.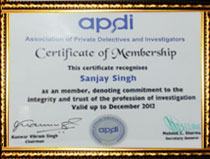 We conduct the following inquiries for organizations:
• Gathering the academic details
• Gathering the past employment details
• Attitude towards co- workers in the previous job
• Felony background
• Performance in the previous firm
• Medical background
• Political affiliation
• Social reputation of the individual
• Character check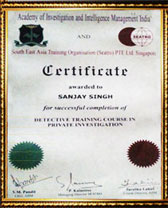 We have been assisting several influential firms in pre-employment checks since past many years. We stick to your working ethics and try to be within limitations while working on the assigned tasks.
We guarantee to deliver hard evidences on the basis of true facts and strong grounds.
Our prime concern is client's confidentiality and we assure cent percent secrecy throughout the case and even after the completion of the assigned case.
We are a Delhi based detective agency, but we also take cases from all the states of India. We have solved cases across the country and we have wide area coverage. We are equipped with strong network of agents all across the country. Their proficient support and our years of experience help us to solve all assigned cases successfully in short span of time.


You may feel free to contact us either via e-mail or you may visit us in person at our head office.
For detailed inquiry or further assistance you can contact us or walk- in to our office.