Whether you are going to marry someone or establishing business with someone, you always need to know about the background of a particular person. In case you marry a doubtful person then your marriage life will be spoiled completely. If you are dealing in business with a suspicious person then in future you have to face a big business loss. So, avoiding the possibilities of being cheated by someone, you need to hire private detectives of IDA for a particular Person background check. These days, checking of a particular person's background is necessary, as by checking the background of a person, you will come to know about him completely. Stated below are the some important advantages of background checking.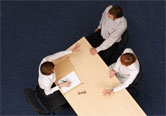 Benefits of a person's background checking

If you hire private detectives India for a particular Person background check then you will find many benefits such as -

1. The private detectives India provides complete information regarding the criminal background of the person with solid evidences.

2. The detective agency provides information about a particular person's social-life background so that you can know about his social life.

3. If you are going to make a business relationship with someone then you must know about his/her financial background. After knowing the financial background of a particular person, you can do business with him/her without worrying.

4. While dealing with someone, you need to verify his/her criminal background in order to avoid any kind of legal trouble.

5. The private detectives India offer you excellent detective services that secure your life.

6. Dealing with a suspicious person means you are inviting trouble. Therefore, it is important for you to verify people before dealing with them.

7. While making a relationship with someone, you must know about the person. Hence, for knowing exactly about a particular person, you need to take detective services of private detectives India.

8. The renowned private detectives India is a high-tech detective agency that provide you complete information of a Person background check.