Today, internet has become one of the most common places for the starting up of an extramarital affair. Many people suspect their spouse for flirting with some other people or having an extramarital affair with him. This is the major reason that people request for spouse investigation services from professional detective organizations, agencies and investigation firms. Indian Detective Agency is specialized in offering professional investigation services to the clients from all across the globe. IDA is mainly located in Delhi and it is powered with an experience of more than a decade in the field of investigation. IDA is comprised of a team of investigators who are well equipped with advance equipments. This eventually helps them in carrying out their tasks in a proficient manner.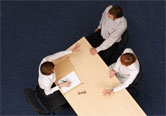 There are different traits that prove that your spouse is flirting or having an extramarital affair with some other man. If you notice your spouse spending most of the time on social networks or any other online chatting sites or they set up a secret email account, then you can switch over to spouse investigation services that are being offered by Indian Detective Agency. You can also request for our investigation services if you start receiving strange calls at your home or you notice a sudden change in the nature of your wife.

We have a team of professional investigators who are capable of offering exclusive services to clients as per their requirements. We, at the Indian Detective Agency, promise to solve all the marital problems of our clients in the best possible manner. Our detectives are spread all across Delhi and they are capable of collecting useful information, based upon the facts. We, at IDA, work with full sincerity in order to generate the best possible results for our clients. So, you can rely on our spouse investigation service and clarify all your doubts against your spouse in the best possible manner.