Intellectual property rights are the type of right that is mainly awarded to individuals or organizations by society because of their creative works like artistic and literary works and inventions and the designs, images, names and symbols used in commerce. This type of right allows the authentic creator to prevent others from making illegal use of their property for a predefined period of time. Intellectual Property is mainly categorized into two segments as Literary Property and Artistic Property (cultural creations) and Industrial Property (functional commercial innovations). We at Indian Detective Agency offer Intellectual Property Rights investigations and surveillance that help our clients to protect their rights. With our IPR investigations we help our clients to reduce impediments and distortions to international commerce.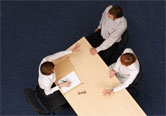 Our expert investigators perfectly understand the fact that to make the Intellectual Property Rights litigation case successful you need to have useful data from various individuals and sources. So, considering this fact our investigators gather all the useful data and details required to make the case strong. Besides, our investigators try all the possible measures to protect the intellectual property rights of our clients and also make sure that the procedures and measures taken to protect the IPR do not themselves become barrier in legitimate commerce.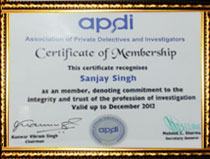 Our Intellectual Property Rights monitoring services provide you a thorough analysis of market conditions which is quite beneficial for your venture. Our investigators will help you to analyze the market conditions with the help of which you can evaluate the potential of your present operations and make changes accordingly to make your venture successful. Our IPR monitoring services include Trade Fair Monitoring, Market Monitoring services, Internet Survey and Common Law Searches.

We at Indian Detective Agency offer comprehensive intelligence and investigation services to protect the Intellectual Property Rights of our clients with professionalism. We constantly strive to offer quality services to our clients in the field and we aim to deliver high level of services when required at competitive compensations, thus ensuring complete value of money.

Our investigators have years of experience in the field. They not only help our clients to protect their Intellectual Property Rights, but also provide effective strategies to implement which can protect their IPR and abolish the activities of the counterfeiters. Our quality services always satisfy our clients and also protect the clients from loss of consumer's confidence and brand value. For more suggestions on IPR you may consult our expert investigators who will provide you effective solutions by considering your case.