There are different kinds of illegal practices common in the world. Among them is the Money Laundering. This is the criminal activity in which the illegal money is concealed in such a way that no one can trace it. This is the very common practice for most of the criminals who come from other countries. It is done in all countries and in all economies. As per the estimation, large numbers of people do this activity on daily basis. To prevent this activity, large numbers of detectives are hired so that they may trace the criminals so that it may be convenient for the police to restrict these activities to some extent.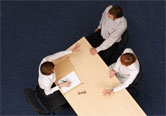 In money laundering money is very smartly moved to various countries so that no one can easily get to know the source from where it all started. Criminals use this method to show that the money they earned from illegal sources or activities is coming from legal sources. It is a process of converting one's black money to white. It is a crime and is punishable by law.

Our company which is working from Delhi is helping the people in solving the cases which are related to this activity. We are having a team of experts who may trace the criminals and their activities in a short period. We aim at reporting and checking the new laundering tricks and countermeasures. With this we help in spreading awareness about the new tricks that are used so that people do not easily fall prey to such activities.

Through this way, we are letting our operations open for different parts of the country and we are mostly active in Delhi NCR. Our activities are not time bound. We are having a team of experts who are working at different levels through which it is possible for a person to get quick and accurate response from our side.