There are large numbers of people who are working in the market so that they may satisfy the needs of the consumers. In this case, they manufacture large number of products. Every company is having their own trademark, which they show on the products and use to sell in different kinds of markets. There are various companies whose trademarks are copied by other companies so that they may sell their products at high rates. It happens mostly with the popular companies in the market that a small company has stolen their trademark or patent so that they may sell their products or also sell some illegal things to different parts of the market very easily. To find out the reality and to catch the suspicious person, most of the companies hire the experts.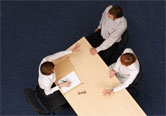 The experts carry out various processes to find out who actually is the culprit behind all these things. Copyright Infringement is a crime and is punishable by law. Any person doing this can be sent to jail.

Since large numbers of companies are established in Delhi or NCR, the problem is more prevalent in this area. To get rid of them, our company provides detectives so that they may find out the reality. As it is illegal in various other countries, so it is in India as well and various small scale companies use to copy the trademark and other valuable things of a branded companies so that they may sell their products to the markets easily.

The company is located in the popular area of the city, Delhi it is possible for any of the person to come to us and take the services. We are available to a person at any time through phone calls and it is also possible for a person to come to our office for the further details.