The shadowing or tailing is done for those people who are suspected for crime and those who may cause harm to the mankind or finances. In this kind of way, that suspect is tailed through the detectives where they may find out the exact activities which he is actually performing and to whom he is meeting, what he is doing and where he is going regularly. This all is kept confidential till the operation continues. We use all kinds of latest technology and accessories because of which the tailing is possible. This concept is common in other countries and it is also grabbing our country too.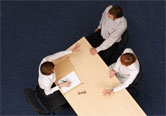 We are ready to provide two kinds of shadowing, one is Activity Observation and the other one is counter Activity Observation. Both these methods are different from each other. Under Activity Observation, tailing of the suspect person is done while under counter Activity Observation, services are provided for those who are tailed or to those who are in doubt that they are been eyed. We perform all our activities in an undercover manner and we also involve the undercover mobile vans for certain operations under this segment. We are having qualified people and latest gadgets that help us in finding the reason of tailing. If a person is being tailed from a long time, we stop that activity at that time and try to find out the reason about that. This all is a part of counter tailing. Under this activity, we use to bring out the evidences which are involved through photographs, collecting necessary documents and through video covering.

We are having a great team of super Activity Observation that performs their tasks in a great manner because of which it is not possible for the suspect to know about the things until it comes to the conclusion. We are helping the people in all the cities with the activities of Activity Observation and counter Activity Observation.