Theft is a common thing these days that happens in someone's house or in offices. It is the thing that happens most in our country now-a-days. The rate of stealing things or finances is increasing day by day. Those policemen who are engaged in solving these cases are not able to get the clue or suspect easily. These types of activities are getting more common in the metro cities like Bombay, Delhi, Kolkata and others. To restrict all these things at some level and to find out the suspect, we are helping the people with our team of experts who can easily investigate into these matters to know the truth.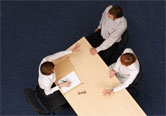 Since we are working from Delhi itself, we are having large number of customers who are from local part or from other cities. They are coming with their problems everyday regarding the same thing and getting our help. Most of the times, people do not even realize that theft has occurred due to which they face heavy losses later. We are working to find out even a single clue and try to find out the criminal. Our team is devoted and they are helping the clients to solve the cases as they did before. Apart from all these things, they are also using their past experience in grabbing the suspect person.

We are having good name among the people of large number of cities due to our services and positive results. We have a team of efficient detectives who do their job in the best way. We use our own time and latest devices through which detection goes possible for us. We think about all the questions that may arise while solving the cases and discuss it with the clients and report them to our clients so that they may understand that when and why it happened and who did it.